September 8 - International Day of Solidarity of Journalists
8 september 2023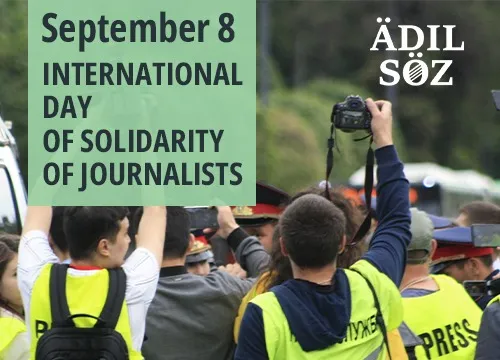 The work of journalists is often associated with risks and difficulties. Journalists are frequently targeted, face interference with their activities, lawsuits, and attempts to silence them. Yet, they persist in their duties no matter the challenges they encounter.
Adil Soz Foundation's monitoring from January 2000 to August 2023 has documented over 1,000 cases of interference with professional activity and attacks against journalists in the course of their work. These incidents have led to approximately 40 police reports, 17 statements to the prosecutor's office, and 19 reports to higher authorities, resulting in 9 cases of disciplinary action. Additionally, there have been 3 court proceedings under Article 158 of the Criminal Code of the Republic of Kazakhstan (Interference with the legal professional activities of a journalist). Two convictions were issued in 2005 and 2023, while one case in 2019 was dismissed due to reconciliation between the parties. In 2023, Khabar-24 journalists in Petropavlovsk, namely Natalya Volkova, Samat Dzhakupov, and cameraman Tolegen Imanov, have been struggling to make their case to come to court for over a year. Throughout this time, they have been subjected to intense pressure, as unknown individuals attempted to coerce them into "reaching an agreement."
Additionally, there are reports of 14 cases when pre-trial investigations under Article 158 were declined. For instance, in the Karaganda region, the police have not started a pre-trial investigation of interfering with the legitimate professional activities of KazTAG journalist Diana Saparkyzy. She was assaulted by ArcelorMittal Temirtau security guards on August 18.
This underscores the critical importance of journalists demonstrating solidarity. Solidarity offers more than just support for colleagues facing adversity. Professional solidarity empowers journalists to be heard and underscores the media's role as the fourth estate.
Only by standing together can we safeguard our right to freedom of speech.